Are you looking for a hands on activity that is easy for students?
How it works:
1. Purchase a box (we recommend 1 box per 10 students) with all the supplies needed to have a "bracelet-making event".

2. Set a date for the event!

3. Download our instructions at www.serviceprojectinabox.org/instructions and make sure that all leaders involved have a good understanding of the process to make a bracelet.

4. Hold your bracelet making event.

5. During the event show one of our Rewire videos (available on this site) as a conversation starter about the issues surrounding human trafficking.

6. Return the bracelets to Refuge for Women and we will distribute them to women through our outreach partners.

Get Started Now!
What our partners are saying about Service Project in a Box...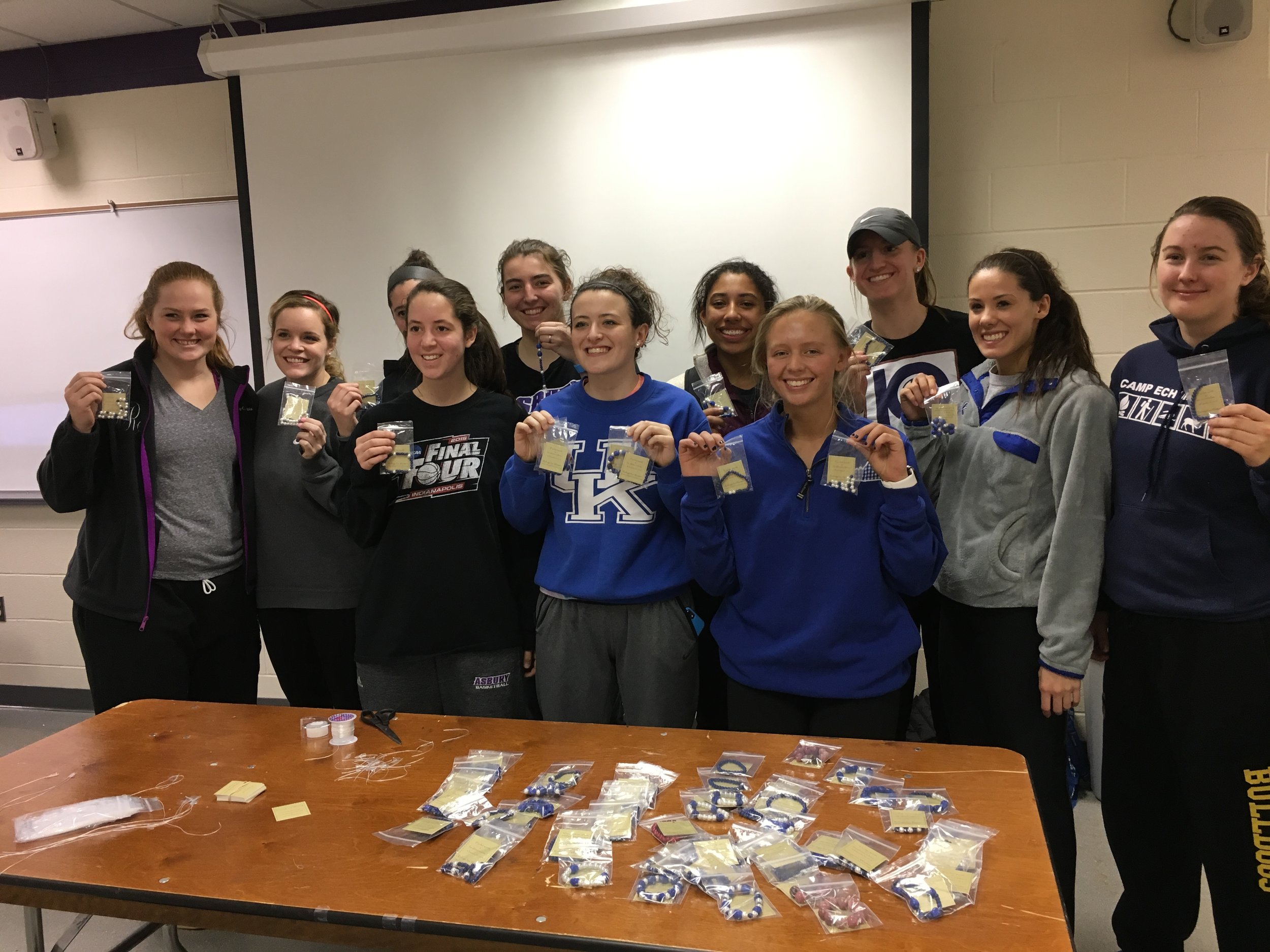 "When the women working in the strip club receive gifts of jewelry they are thrilled. First of all they want to know how much it is. When we tell them that we are giving it to them with no strings attached, they begin to relax and let walls down a little. It is after giving gifts, like jewelry, that they begin to open up and we are able to speak to them about the unconditional love of Jesus."
Outreach Partner
(Asbury University Women's Basketball Team pictured)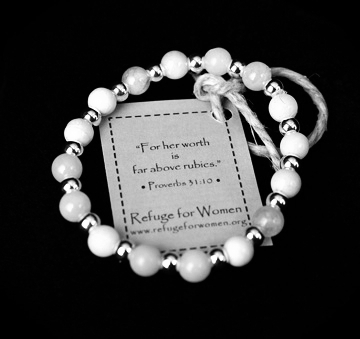 Need curriculum to go with your service project?
Our Rewire curriculum is the perfect compliment to this service project! Rewire is geared specifically to middle and high school students. It covers the relevant topics that our students need to be discussing, including: Pornography, Sexual Abuse, Trafficking and Social Media. The format includes video teaching from national speaker, Scott Harvey, coupled with the testimonies of 3 women who have walked difficult paths in life regarding these four areas. At the end of the teaching time, students can break into smaller groups and use our age-appropriate questions to get dialogue started.
Check out our four Rewire videos below:
Refuge for Women is a non-profit, faith based organization providing specialized long-term care for women who have escaped human trafficking or sexual exploitation. With multiple locations across the U.S., Refuge for Women offers up to twelve months of safe housing, at no charge to the resident, with around the clock care as clients progress through evidence-based, trauma-informed programming.
"
The power of a piece of jewelry...I will never forget the first time one of our sweet friends pulled out a pair of cross earrings. Her face lit up but as quick as she smiled she also went to try and show us a body part. See she thought since we were giving her something she had to do something in return. It's like that most of the time for these precious women. Once we told her no, we bring this to you because we love you, Jesus loves you and we want nothing in return, her eyes welled up with tears and she hugged me and thanked me while crying on my shoulder!
Outreach Partner
Sound like something that your group might be interested in? We make it simple to pull off a service project! Simply click on the button below to order your box. We've provided all the resources you need to train leaders and assemble the bracelets! Your group will have a fun project to work on as a team and serve the victims of human trafficking.